The three lodges in Henderson County, Jerusalem 9, Henderson 958, & Corydon 799, teamed up to purchase a boy's & girl's bicycle to present to every elementary, middle school, and high school in the Henderson County Board of Education district.  Eleven schools with a total of 22 bicycles.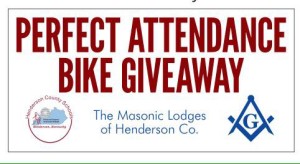 Brother Andrew "Andy" Carr, current master of Henderson 958, spearheaded the program, promoted it to the three lodges and worked tirelessly to obtain the best deal possible for the bicycles.  He also worked with brother Ty Rideout, owner of Abba Promotions, to have signs made up to place on the bicycles.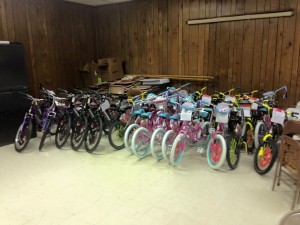 Several brothers committed to donating money toward this program and the three lodges will help cover the additional cost.
The goal was to have all the bicycles in each school so that when classes start on August 10th the students will see them every day to give them incentive to stay in school.  This goal was achieved.  Those students that have perfect attendance through April will have their name placed in a drawing with a boy & girl winner at each school.  Along with the bicycles, we will also be providing them with a helmet or a voucher to get a helmet to help promote safety.
This bicycle program was suggested by our current Deputy Grand Master, Cloyd Bumgardner.  It is our understanding that we are the first group to do this on a mass scale.