Scholarship recipient, Katelyn Patterson, was presented a check for the first installment of her scholarship that was awarded by the members of Jerusalem 9 thanks to the kind donations from members that left money in their will for the lodge to award scholarships from the interest earned.
You can make a difference in the lives of others as well. Please consider a monetary donation for the scholarship or building fund of your lodge.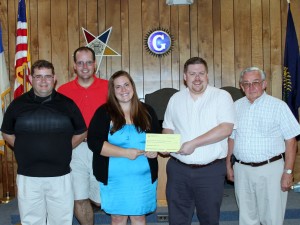 Pictured left to right: James Roll P.M., Adam Dare J.D., Katelyn Patterson, Matthew McConnell S.W., and Jim Molt P.M.